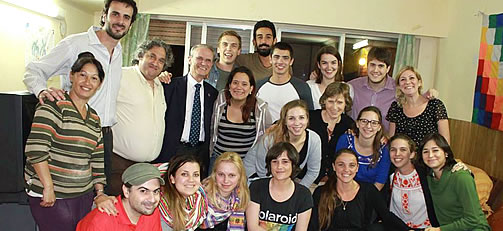 Volunteer Project in Argentina
ABA-CT02
Description:
This volunteer project in Buenos Aires is made up of a diverse group of people, who have built a space dedicated to the creation, production and distribution of documentary cinema. Using cinema, they contribute to social debate, and regard documentaries as a transformative tool for social change. The group consists of journalists, filmmakers, artists and dance teachers. Their aim is to continue producing and mobilizing documentaries, both nationally and internationally. They would like to hold classes in film and media, and organize 'film debates' in schools, cultural centres and universities.
Activities:
Working at this cultural volunteer project, you will work within a team, focusing on the promotion and marketing of the organization.
Requirements:
Volunteers must be able to work collectively and do not need any specific skills. Those interested in education, entertainment, psychology, along with social work, will do well in this volunteer program in Argentina.
Minimum:
4 weeks.
Work Schedule:
They are able to receive volunteers all year round, and the hours are to be arranged at the time of the placement.
Spanish:
Intermediate. It is recommended to take a Spanish course before starting your volunteer work.
Capacity:
Approx. 2-3 volunteers at a time.