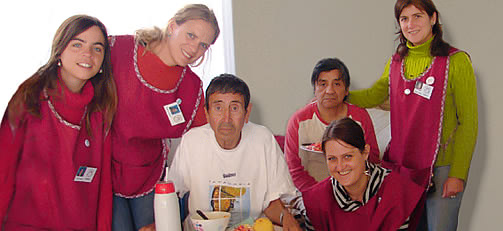 Volunteer Project in Argentina
ABL-SE02
Description:
This volunteer program gives you the opportunity to work in the public hospital of Bariloche. Medically trained professionals or medical students, but also volunteers with no medical background, can work at the hospital assisting the team of Argentinean volunteers who organize activities for the patients.
Activities:
During your volunteer project in Bariloche, you will assist the team of Argentinean volunteers that do a variety of tasks in order to make life for the patients as pleasant as possible; such as providing information, feeding the patients, reading to children who are waiting for the doctor, or organizing workshops and activities, organize the correspondence within the hospital, help the patients to buy books magazines or to move within the hospital, etc. You will only perform low-risk tasks and will never work in emergency rooms or operation rooms. If you join the team, you will be supervised by a team member and work approximately once or twice per week.
Requirements:
Intermediate-advanced level of Spanish (it is advisable to take Spanish classes in Bariloche before staring your volunteer program)
Commitment and dedication to the project
Medical students or preferably, people with an interest in working in a medical environment.
Flexibility (exact duties may vary depending on your time of placement)
Please bear in mind that the admission process is quite strict and that the final acceptance depends on the hospital staff.
Minimum:
The minimum time requested is 12 weeks.
Spanish:
You should have a good level of Spanish in order to partake in these projects. You will be tested on your level of Spanish before starting the project. It is highly recommendable to take a Spanish course in Argentina before starting your volunteer work.