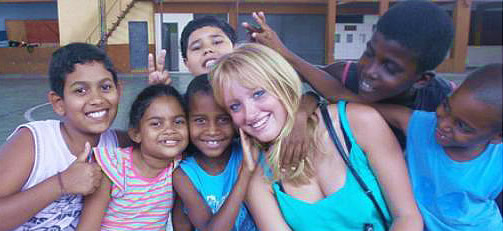 Volunteer Project in Brazil
BR-SE9
Description:
This volunteer project takes place in Rio de Janeiro and was set up in 1991 to promote a comprehensive education, including subjects such as sports, culture, basic health care, social services, and professional development, for children and adolescents that come from underprivileged Rio-communities. You will experience the Brazilian culture being close to the local community.
Activities:
Your work at this educational volunteer project will vary slightly according to the needs of the project during a particular week. Typical activities that a volunteer may be involved in include the following:
Teaching English
Helping to organize the library
Gardening, renovation and painting activities if necessary
Taking care of babies at the nursery
Requirements:
The following requirements can be used as a guideline; however, exceptions can be made according to experience, language skills and areas personal interest.
Minimum age: 18 years
Minimum commitment: 4 weeks
Minimum Portuguese level: basic
Compassion and genuine interest in helping others
Interest in working with children and youngsters
Minimum:
The minimum time requirement for this project is 4 weeks of volunteering. This can however, be extended with either Portuguese classes or extra weeks of volunteering, according to the individual wishes and needs of the volunteer.
Work Schedule:
Volunteers can choose either morning or afternoon for their project and are required to work a minimum of 20 hours per week. The maximum number of volunteers is 10 at a time. (Please note: we donít know if positions are available for this volunteer program until applications are made)
Portuguese:
Volunteers at a beginnerís level of Portuguese are welcome on this project; however, we highly recommend the optional Portuguese language program prior to your project. This will provide a basic knowledge of the language and the necessary vocabulary for good communication.