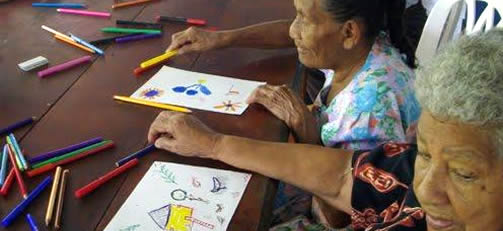 Volunteer Project in Colombia
COL-SE2
Description:
Leticia is Colombia's most southerly city and is situated in the department of Amazonas. This is the area of the country where the three countries of Colombia, Brazil and Peru meet, making the city a fascinating mix of cultures. The Amazon River and jungle are only minutes away, making this the perfect work and study location. Here volunteers will have the unique opportunity to experience the local culture first-hand whilst assisting in valuable community work. It is also the perfect opportunity to practice and rapidly improve your the Spanish skills. Assistance from all volunteers is greatly appreciated by all concerned and you will receive a very warm welcome on this program. Part of your program fee will go directly to the program itself to aid its improvement. This volunteer project is in a home for the elderly which is run by the state.
Activities:
The work revolves around recreational activities and keeping the elderly occupied during the day. These people love to have young foreigners around them; it gives them a great lift and a purpose to their day. Simple creative workshops are organized and the volunteers form fun relationships with the elderly as they get to know them over the period of their program. This is very rewarding work and greatly appreciated by all involved.
Some of your responsibilities of the above mentioned program:
Assisting with recreational activities.
Serving meals, morning/afternoon drinks.
Playing board games etc.
Chatting and generally having fun.
Building good relations with the elderly over the period of your program.
Requirements:
Commitment to work 4 hours per day.
Willing to learn about a different culture and respect for cultural differences.
Motivation and enthusiasm for working with elderly people.
Intermediate level of Spanish.
Patience, creativity, and professionalism.
Commitment to the project.
Minimum:
The minimum time requested for this volunteer program in Colombia is 4 weeks of which at least two weeks of Spanish course. The standard volunteer package consists of 2 weeks of Spanish classes followed by 2 weeks of volunteer work. You can also decide to combine your course and volunteer work and start working straight away, as classes are in the mornings, and your volunteer work will be in the afternoons.
Spanish:
An intermediate level of Spanish is required in order to participate in this project. You will first take (minimum) 2 weeks of Spanish course.