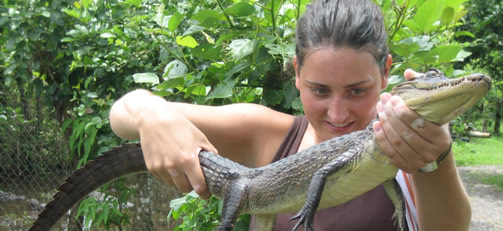 Volunteer Project in Costa rica
CRH-EC4
Description:
This organization, based in Santa Barbara (Heredia), offers all kinds of ecological projects throughout Costa Rica, in national parks, animal shelters and zoos. The projects provide a wonderful opportunity to nature lovers, who would like to contribute in preserving the beautiful nature of Costa Rica.
Activities:
Volunteers work in projects which are all focused on sustainability and conservation and on creating a lifestyle that is in balance with nature. Examples of places where volunteers are needed are:
National parks and reserves

Working at national parks gives you the opportunity to get up close and personal with the rich biodiversity of Costa Rica. You will work closely with the park staff in order to get a full immersion experience.


San Rafael Dogs and Cats Shelter

At this animal shelter, where mainly dogs and cats are sheltered, you will lend a hand with general animal care, visitor relations, and/or veterinary responsibilities, depending on your training and experience.


Eco communities

Volunteer projects have been set up to support the initiatives of local communities to improve and restore the natural resources in their village. You may work in reforestation projects, greenhouses and educational campaigns.


Turtle projects

The sea turtle conservation project aims to protect the turtle nesting populations on various beautiful Costa Rican beaches. You will have a chance to work directly with turtles, taking shell- and nest-dimension measurements, collecting eggs, and tagging the rear flipper of the turtles.


Zoo Projects: (Wildlife Conservation Centers)

Biologists, vets, and other volunteers are needed in zoos, conservation centers and butterfly gardens.
Requirements:
Beginner level of Spanish
Minimum commitment of 2 weeks
Love for flora and fauna
Commitment and dedication to the project
Minimum:
The minimum time requested is 2 weeks, but we highly recommend a placement of at least 4 weeks.
Spanish:
For these projects, you will need a beginnerís level of Spanish. If you would like to improve your language skills before starting the volunteer project, you need to reserve the Spanish language and cultural immersion program in advance with us, so that you can take the course just before starting the volunteer work.