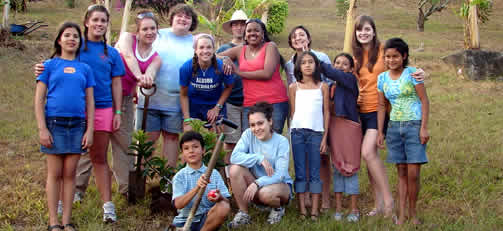 Volunteer Project in Costa rica
CRH-SE3
Description:
This program offers you the possibility to immerse yourself in community activities: working with local groups, communal associations, youth groups, and sports organizations. Volunteers have the objective to set up a project and, once it is up and running, hand over the responsibility to the community members. Your custom-made project will be a marriage of the needs of the community and your personal inspiration.
Activities:
During the Volunteer Training, ideas are given about what to do and how to develop, support, and carry out your custom-built project. Many volunteers create projects that deal with one major area of social development and focus on team-building and leadership.

Examples of community projects are: establishing programs and activities such as women's groups, organizing soccer leagues for kids, women and men, building organic gardens for local soup-kitchens, repairing or constructing community sites, or designing small businesses that support local women's financial independence.
Requirements:
Advanced level of Spanish
Minimum commitment of 2 weeks
Creativity and strong initiative
Commitment and dedication to the project
Minimum:
The minimum time requested is 2 weeks, but we highly recommend a placement of at least 4 weeks.
Work Schedule:
The minimum time requested is 2 weeks.
Spanish:
For these projects, you will need an advanced level of Spanish. If you have little or no Spanish language skills, you need to book a Spanish language and cultural immersion program with us, which you should take during the first week of your placement.