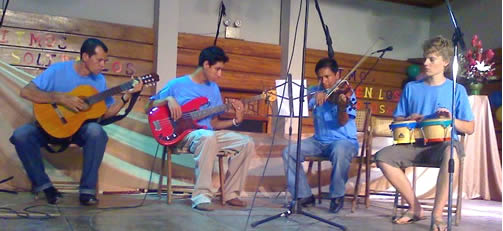 Volunteer Project in Nicaragua
NG-CT4
Description:
This musical organisation has its goal to implement music classes in the public education system. At this moment music lessons are only offered at private schools as the government does not want invest in teaching children music. However, this organisation feels that music is an important part of the curriculum and can provide enjoyment and prospects for children. Therefore the organisation started providing music lessons in public schools. The organisation receives donations of instruments and money and has five very professional and gifted music teachers working for them. The children are between the ages of 3 and 12 and during the music classes they learn how to play different kinds of instruments and how to sing. A few times a year the organisation organises performances for the students.
Activities:
Volunteers at this music program will assist the music teachers in their classes.You will help the teacher to prepare classes and teach in some of the poorest neighbourhoods in Managua. You will be playing music with children and also be involved in producing performances and shows with the students.
Requirements:
To work at this project we are searching for volunteers with the following requirements:
Basic level of Spanish
Talent working with children
Interest in and affinity with music
Prepared to take initiative
Inspired and motivated
Minimum:
The minimum time requested is 4 weeks. The first week will be spent taking a Spanish course in Granada, in order to learn or improve your Spanish.
Spanish:
For this special volunteer program in Latin America, you should at least have a basic knowledge of the Spanish language. At least one week of the program will consist of Spanish classes in Granada, before starting your volunteer work, in order to be able to communicate better with the students.