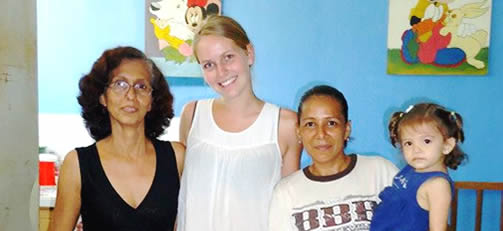 Volunteer Project in Nicaragua
NG-SE1
Description:
You will be volunteering with Children in a state run organization in Nicaragua which provides care for children between the ages of two and six months old. All these children have problematic situations at home or have no one to take care of them while their single caregiver is at work. The children in the day centre come from all around Granada and on a normal day the centre cares for around fifty to eighty children. These children have little or no food and love at home. This organization believes that all of the children in their care should be provided with a nutritious meal, an opportunity to play and most importantly be given love and care.
Activities:
While working for this volunteer project in Nicaragua you will be helping to provide the best care possible for the kids and babies at the day care centre. Your main tasks will be:
Most importantly: give love and attention
Put the kids to bed
Change diapers
Feed the children
Requirements:
To work at this project we are searching for volunteers with the following requirements:
Basic level of Spanish
Mentally strong
A loving nature
Patience
Prepared to take initiative
Usually, volunteers work in the mornings, approximately from 7 through 11:30, from Monday through Friday.
Minimum:
The minimum time requested for this volunteer program in Nicaragua is 4 weeks. The standard program consists of 1 week of Spanish course in Granada, followed by 3 weeks of volunteer work.
Spanish:
In order to participate in these programs, you should at least have a basic knowledge of the Spanish language. Included in the standard volunteer package of 4 weeks, is a Spanish course in Granada during your first week, before starting your volunteer work in Nicaragua. Your Spanish classes will help you to reach a basic to intermediate level of Spanish and will make your experience at the project more enjoyable as you will be able to communicate better with the staff and the children. Furthermore, your week of Spanish classes will give you a comfortable and smooth start of your volunteer program in Granada, as you will enjoy cultural activities, get to know your fellow students and volunteers and gain an understanding of the local culture.