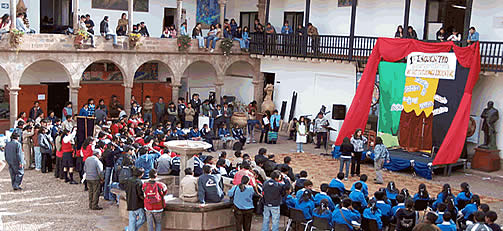 Volunteer Project in Peru
PC-CT8
Description:
This is an institution of Art and Culture founded in 1946. It plays a very important role regionally, nationally and even internationally. It is located in a gorgeous colonial building which used to house the famous Cusquenian school in the 17th and 18th century. Nowadays it offers all types of courses, for example photography and ceramics, as well as official courses to train art teachers.
Activities:
Help give classes or assist in one of the 5 specialties: *Graphic design *Sculpture *Painting/drawing *Conservation and restoration of works of art *Smelting works The main idea is the exchange of knowledge between the volunteers and the institution. They are very open-minded towards techniques used in other countries.
Requirements:
Volunteers who are studying, or have studied, art or something art related. Enthusiasm for working with different kinds of people.
Minimum:
2 months
Work Schedule:
Monday to Friday 8.00-12.00 and 14.00-20.00. The work hours will be discussed with the person in charge.
Spanish:
Advanced
Capacity:
2 volunteers at a time