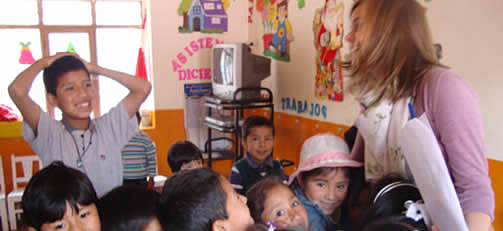 Volunteer Project in Peru
PC-SE36
Description:
This is a kindergarten that has a capacity for around 25 children between 4 and 5 years old. They have a little kitchen and give the children food at 10:00am. They have had a dining room since last year. The materials for the building were bought with donations from a wealthy family, but it was the parents of the children that did the building work. This project needs a psychologist, and enthusiastic people that can assist in the classes.
Activities:
Class assistants, teaching the little children games, taking care of them, and helping with the food.
Requirements:
Enthusiasm, innovation, and commitment to this kind of work. Being able to work independently. A person with a degree in psychology is also needed.
Minimum:
4 weeks.
Spanish:
Intermediate.
Capacity:
2 volunteers at a time