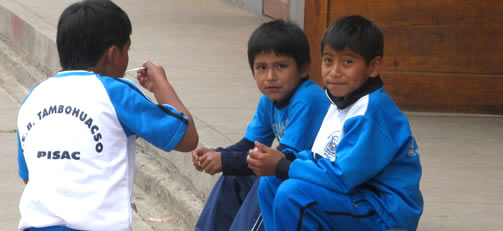 Volunteer Project in Peru
PC-SE71
Description:
This is the biggest school in the Pisac region and it consists of an elementary school and a High school. In total it has about 970 students. There is a direct bus connection between Cusco and Pisac and it takes about an hour.The children who attend school are between the age of 6 and 16 years old. The children who attend the school are mostly from the rural areas around Pisac. The school area is quite big and consists of 30 classrooms, an auditorium, bathrooms, a kitchen/dining area, an office and a big playground.
Activities:
The volunteers can help shaping up the garden, painting the walls that need painting or repaint some of the images depicted on the walls in the whole school. Furthermore they can teach English, assist the teachers in their daily routine and participate in the program which focuses on teaching the kids certain things during sports activities.
Requirements:
Intermediate level of Spanish
Enthusiasm for working with children.
Minimum:
The minimum time requested is 4 weeks.
Work Schedule:
You will work from 9.00 through 12.30 on weekdays.
Spanish:
In order to participate in these programs, you should have at least an intermediate level of the Spanish language. The better your Spanish is, the more you will enjoy the experience, as you will be able to communicate better with the children. We recommend you to book Spanish classes through us before starting the volunteer project. Please ask us for information.