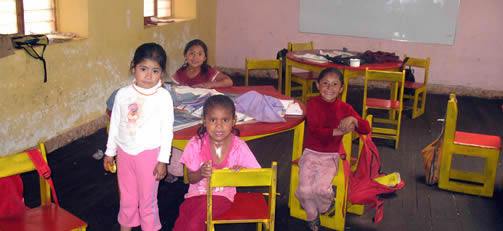 Volunteer Project in Peru
PC-SE72
Description:
This is an elementary school in the village of Taray. The children who attend school are between the age of 6 and 12 years old and the education level is from first till sixth grade. The children who attend the school are mostly from Taray but a big part is from the rural areas around Pisaq. The parents usually are poor and prefer this school because the inscription is only S/15 instead of the S/50 other schools charge. The children also get breakfast at school.
Activities:
The volunteers can help shaping up the garden, painting the kitchen and the dining room, teaching English, assisting the teachers in their daily routine, paint and or repair the slides and swings that need fixing.
Requirements:
Intermediate level of Spanish
Enthusiasm for working with children.
Minimum:
The minimum time requested is 4 weeks.
Work Schedule:
From 9.00 until 12.30
Spanish:
In order to participate in these programs, you should have at least an intermediate level of the Spanish language. The better your Spanish is, the more you will enjoy the experience, as you will be able to communicate better with the children. We recommend you to book Spanish classes through us before starting the volunteer project. Please ask us for information.