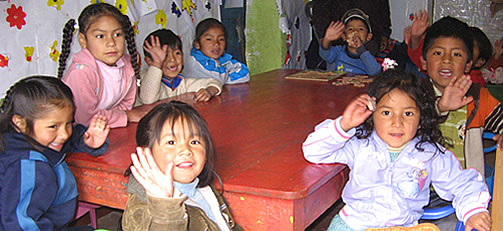 Volunteer Project in Peru
PC-SE98
Description:
This small bilingual pre-school in Cusco works with children from 2 to 5 years old. They have two classrooms, one with 2 and 3 year olds and the other with 4 and 5 year olds. The school focuses on values, bilingual education, music, dance and theatre.
Activities:
This school in Peru mainly needs help with teaching English. They have their own materials and the volunteer is in charge of teaching English to both classrooms. It should involve a lot of learning by songs, movements and activities as they are very young. You will also be helping out the teachers with other subjects.
Requirements:
A lot of patience to work with and teach young children.
Minimum:
You should work at least 4 weeks for this project.
Work Schedule:
You will work Monday through Friday, in the mornings from 8:30 to 1:00.
Spanish:
Volunteers should speak Spanish on an intermediate level. Ask us for possibilities to take some Spanish classes in Peru before starting your volunteer work, in order to be better prepared and feel more confident when starting your placement.