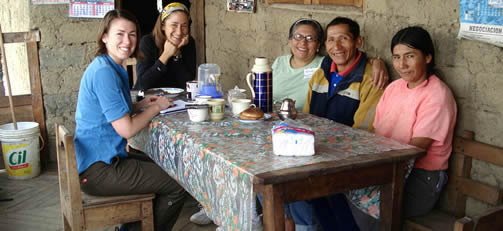 Volunteer Project in Peru
PQ-SE01
Description:
This is an umbrella organization with 8.000 coffee farmers (families), that stimulates rural development, growing organic coffee and selling their coffee to the international fair trade market. Part of the rural development program is setting up home stay possibilities at small scale coffee farms, on the way to the famous Machu Picchu via the stunning trek Salkantay or via the alternative Inca Jungle trail. Volunteers have the possibility to stay with these organic coffee farmers and participate in the everyday life and to get to know the whole coffee process from planting the coffee tree to drinking a delicious cappuccino. Additionally, you can help out at primary schools in the neighborhood.


Activities:
You will meet the families of small scale coffee farmers and will get to know the coffee farming process. You will be offered the unique experience to share in the daily traditions of your hosts while staying in a comfortable rural lodge. This way, you support rural families and their children to improve education and give them a better opportunity to successfully enter a high school.  The villages are all situated close to Machu Picchu so you could combine your volunteer work with a visit to the spectacular lost and sacred city of the Incas.
The key elements of the volunteer work are:
Hiking and following the spectacular Inca jungle trail
Volunteering at a small scale coffee farm and get to know the traditional coffee process, working along with the coffee farmers
Home stay at coffee farms, intercultural exchange and staying in comfortable rural lodges. 
Visit the lost city of the Incas: Machu Picchu.
Assist teachers at the primary schools and help out with teaching children of several grades in one class room.
Requirements:
basic to intermediate level of Spanish
willingness to work along with the coffee farmers family (manual labor)
willingness to work along with children and support the local teachers
for working at the school: experience in teaching or in working with children
adapting to rural life 
Minimum:
The minimum time we recommend is 4 weeks. If you only want to help out at the farm, and not at the school, shorter periods are also possible.
Spanish:
You should have a basic to intermediate level of Spanish in order to communicate with your host family and with the children at the school. We highly recommend you to book Spanish classes through us before starting the volunteer project.