Thursday August 29, 2013 - Posted by
webmaster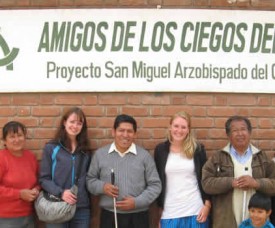 Volunteer Work Latin America offer many programs for teaching English in South America. Volunteer placements can be arranged at afterschool projects, primary schools and also in the tourism sector. However teaching English in Peru to blind persons is a whole different ball-game!
We work together with a center for social rehabilitation in Peru. This specific institute for adults is set up for, and run by, blind people with the aim of bringing the community of the visually impaired in the Cusco region closer together. The location has a room for massage- and physiotherapy, a small bakery, a greenhouse as well as a computer room.
Besides putting these facilities to use, the organization is also organizing workshops in a variety of trades, such as accounting and marketing, and the English language in order to stimulate independence and more job opportunities. Due to lack of funds as well as staff, these amenities are hardly ever used if it wasn't for the help of volunteers.