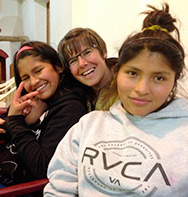 Project:

Length of time in project: 4 weeks

Home Country: Germany
I really liked volunteering at the home for children in the Sacred Valley in Peru. Everybody is very friendly, and the children are nice and appreciate every little help that I give them. At first, I was a bit surprised that the children have to work so hard outside of school on their homework, as they also assist in the orphanage, but it is a team effort, and everybody helps out! I had a very good experience doing volunteer work in Peru.