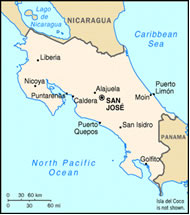 Costa Rica lies between Nicaragua to the north and Panama to the south and faces both the Caribbean Sea and the Pacific Ocean. With an area of 19,730 square miles (51,100 km2), Costa Rica ranks after El Salvador as the smallest republic in Central America. It also comprises several islands. Cocos Island stands out because of its distance from continental landmass, but Calero Island is the largest island of the country.
Costa Rica's geography is small, yet diverse. From lush rainforest to paradise on tropical beaches to active volcanoes, the country offers a variety of interesting destinations. An astonishing five percent of the world's biodiversity is found here, including more than 800 species of ferns, 1,000 of orchids, 2,000 kinds of trees, and 200 species of mammals. Geographically, the country can be divided into four regions: the highlands, the Pacific coast, the Caribbean coast and the tropical rainforest. The highlands consist of a mountain chain that runs through the center of Costa Rica from Nicaragua to Panama. The west coast borders the Pacific Ocean, The east coast runs along the Caribbean Sea. The tropical rainforest is found in the lowlands on either side of the mountain chain.
The capital, San Jose, rests roughly in the nation's center, settled within a highland valley. Cascading down to the Caribbean from the central mountains are Costa Rica's many great rivers, including the Reventazon. The Pacific side is marked by two broad peninsulas that hook out into the Pacific, the Nicoya and the Osa.
Costa Rica's climate is renowned as an atmospheric treat. Mild subtropical conditions prevail year-round, and discomforting temperature extremes and prolonged periods of gray are practically nonexistent. Temperature varies mainly according to elevation, the higher the cooler. The brunt of the rainy season lasts from May through November, while a brief dry spell pays a visit from February to April. Costa Rica's rain falls mainly on the Caribbean coast, giving the Pacific a much more arid climate.
Demonstrating an environmental sensitivity unparalleled elsewhere, Costa Ricans have set aside one quarter of their land as protected areas and national parks. Ecotourists are rewarded with botanical and animal marvels found nowhere else on Earth. Although Costa Rica is best known as an invaluable refuge for nature, this small nation is also a haven of peace.