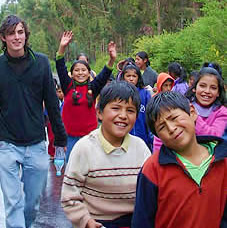 Becoming a volunteer in South America
is an exciting and rewarding experience that will change your life. Prepare before you travel by researching each of the
Latin American
countries that you are interested in doing
volunteer work
in. Some specialize in certain types of volunteer jobs more so than others so it is important to be informed. We offer environmental and marine biology work in countries like Costa Rica and Ecuador, whereas other countries like
Peru and Argentina
for example tend to focus more on social work such as health care, teaching English abroad, or, building maintenance in communities. Of course, all countries in Latin America do focus on social work. Depending on the type of work you want to do will certainly influence which country in Latin American you end up travelling to.
We are very excited to introduce you to South America and our volunteer opportunities.
VOLUNTEERWORK LATINAMERICA
has many years of experience organizing not only volunteer programs but also all the other services you might need to make the most out of your stay, such as accommodation, Spanish classes, excursions, airport transfers. Everything will be organized and taken care of up to the tiniest detail so that you can be worry free as you set sail for your trip!