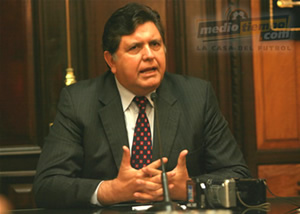 From a political standpoint, Peru is a very complicated country. To give a bit of background, when president Fujimori reined power in 1990, Peru was near bankruptcy due to former president Alán García. García decided to stop paying back foreign debts as he thought Peru was incapable of doing so, and thus all international loans and investments were frozen and Peru lost more money. At the same time, Sendero (Sendero Luminoso, Lightning Path, Maoist Guerilla, a terrorist group that began in Ayacucho) was gaining power and the future of Peru seemed very unsteady.
Despite these problems, Fujimori succeeded in placing the leader of the Sendero (Abimael Guzman) behind bars with help from the National Central Intelligence Agency, which meant the end of the Lightening Path. Little by little, Peru was able to start reconstruction, though many false promises were made. Fujimori changed the constitution so that he could remain in power for more than the usual two periods (of five years). He got re-elected twice: in 1995 and in 2000. During the election in 2000, he ran a seemingly corrupt campaign against Alejandro Toledo, and lost support when a video emerged with his right-hand Montesinos bribing an important business man for $15,000. The result of this scandal led Fujimori to flee to Japan.
Toledo won the new elections in April 2002. Once a shoe shiner, he was the first Quechua-speaking president of Peru. He managed to reach an average economic growth of 4%, even though more than 50% of the Peruvians still lived in poverty.
Just like his predecessor, Toledo ended up in the middle of several other corrupt scandals. Public support went from 59% down to only 6% showing an absolute negative record.
In 2006 Alan Garcia once again won the elections, defeating nationalist candidate Ollanta Humala, who was very popular in the Cusco region. Ollanta now faces several trials for his role in the army fighting Sendero Luminoso. He was allegedly accused of abusing human rights which included forced disappearances, torture, and murder. He is denying those facts, stating that the charges were 'orchestrated by the Alan Garcia administration to neutralize any alternative to his power'. Meanwhile Fujimori, who has been captured in Chili while trying to enter Peru for the 2006 elections, is awaiting trial.
Up until now Garcia has strengthened economic ties with Chili and Brazil which has brought success to many people in Peru. However, he has faced his first major political defeat in January when his proposal of the death penalty for members of the Shining Path was blocked by the Congress.