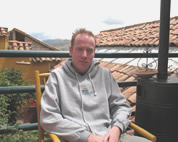 Project: After School Project

Length of time in project: 2 months

Home Country: Ireland
I am a volunteer in an after-school project. When I first came to the project I was full of inspiration and motivation to change the future lives of these kids. After spending a few days there I realized that the most important thing for these children at this moment, need to have some fun for a few hours. Sadly, most of them have to go and sell products on the streets in order to survive. This project gives the kids a chance to let go and just be KID as opposed to meeting some of them on the streets where they work long hours in order to make a little bit of money for food. One child told me that he was not aloud to return home until everything he had had to sell was sold. For this there were nights he didnīt go home until 3 or 4 in the morning. It made me realice that the 4 hours that they receive after school gives them a chance to relax before they have to deal with the adult side of life once again. My main objective, with the help of other volunteers, was to get them to paint the walls of the project which at the time were very dull. We had a great time painting the walls and bringing some color into the project and into the childrenīs lives.