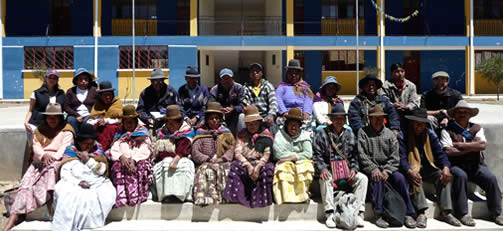 Volunteer Project in Bolivia
BP-CT6
Description:
This volunteer program in Bolivia is located in the small village Santiago de Okala, a farming and fishing community located on the shore of Lake Titicaca. It is the perfect place if you want to admire beautiful sandy beaches and spectacular views and if you want to get to know the local traditions and customs of the region. This volunteer program is a community-based project that is focused on offering homestay and workshops for tourists in order to protect the natural and cultural patrimony of the local inhabitants and improve their quality of life.
Activities:
Volunteers will be involved in a variety of activities. You will give short trainings to residents on how to attend the tourists visiting the community. You will also help out in the community museum. This museum, open since November 2010, shows and conserves many aspects of traditional life on Lake Titicaca. There is a strong focus on the cultural activities of the region and the ecology of Lake Titicaca. The museum contains several interesting displays focused on agro-biodiversity, medicinal plants, fishing, farming and other parts of our community.
Requirements:
Volunteers must follow these requirements:
Intermediate to advanced level of Spanish (we can assist you in booking a Spanish course in La Paz before starting your volunteer project)
Flexibility
Creative and enthusiastic spirit
Motivation and perseverance
Willingness to live in a small and quiet town
Good organization skills
Interest in traditions and local customs of Bolivia
Minimum:
Volunteers need to commit to a minimum of 4 weeks.
Work Schedule:
Volunteers usually work Monday through Friday from 8 to 12 and 15 to 18 hours.
Spanish:
It is important for all volunteers to speak Spanish to a conversational level in order to communicate easily with the local people and the staff members. If you would like to take a Spanish course in La Paz before commencing your volunteer project in Santiago de Okola, we can help you to make the arrangements.