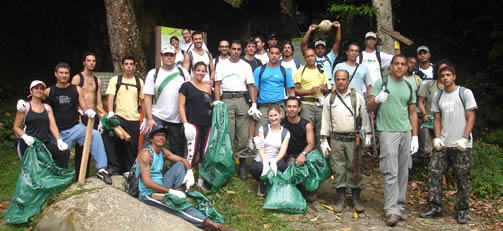 Volunteer Project in Brazil
BR-EC3
Description:
Committed to preserving green areas of the city of Rio de Janeiro, this national park has recently completed its 49th year of successfully preserving the natural environment. Since 1961, the park has welcomed visitors from all over the world and today it is one of the most visited parks in Brazil. Comprising several species of Atlantic forest, the park is a tropical forest in an urban area. In addition to providing a magnificent natural backdrop to the urban sprawl of the city, it helps to maintain and regulate both temperature and water supply. The park is home to some breathtaking waterfalls, natural caves and a wide biodiversity. In addition, it provides sanctuary for a number of highly valued historical structures such as the 'Christ Redeemer'. The work involved in the maintenance of the park is vast and assistance from volunteers is greatly appreciated. Not only will volunteers have the opportunity to learn about conservation issues in Brazil, but they will also be fully immersed in the culture and therefore greatly improve their Portuguese language skills.

The work of each volunteer will vary slightly according to the demands of the particular day. Typical activities that a volunteer may be involved in includes the following:
Activities:
Tree planting
Endangered flora and fauna surveys
Weed control
Habitat restoration
Conservation fencing
Heritage restoration
Reforestation
Reintegration of species
Guided visits
Construction and maintenance of walking tracks
Requirements:
The following requirements are used as a guideline, however, exceptions can be made according to experience, language skills and areas personal interest
Minimum age: 18 years
Minimum commitment: 4 weeks
Minimum Portuguese level: basic
Good health, reasonably fit and prepared to take part to the best of your ability
Genuine interest in helping the environment
Minimum:
The minimum time requirement for this project is 4 weeks of volunteering. This can however, be extended, with either Portuguese classes or extra weeks of volunteering, according to the individual wishes and needs of the volunteer.
Work Schedule:
Volunteers work Tuesdays, Thursdays, Saturdays and Sundays, from 9 a.m. to 2 p.m., with a including snack break. Volunteers are required to work a minimum of 20 hours per week.

The maximum number of volunteers this organization accepts is 10 at a time.

(Please note: we donít know if positions are available until applications are made).
Portuguese:
The organization is happy to accept volunteers with little or no knowledge of Portuguese. However, we highly recommend the optional language program prior to your project as this will provide a basic knowledge of the language and the necessary vocabulary for good communication. It also makes the project more interesting for the volunteer as they can involve themselves to a greater degree.