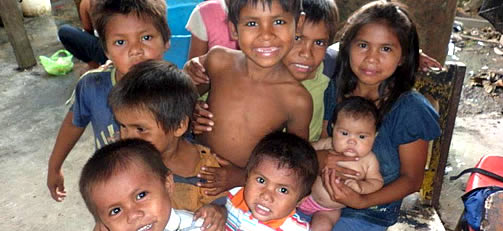 Volunteer Project in Colombia
COL-SE1
Description:
This volunteer project is located in Leticia, in the department of Amazonas in Colombia. This is the Southern-most part of the country where Colombia, Brazil and Peru converge. The Amazon River and the unrivalled ecosystem of the Amazon Jungle are only minutes away, making this the ideal location to work. The program not only offers the opportunity to experience the local culture first-hand and to assist in valuable work, but it also offers the opportunity to practice the Spanish language. The project relies on the services of volunteers to help bridge the gap between tourism and local culture, in turn helping local communities gain a greater value of their unique cultures. Assistance from all volunteers is greatly appreciated and as a volunteer you will receive a very warm welcome. A proportion of the fee you pay for your program will go directly to the program itself in order for it to improve and grow. The project is at a clinic for special needs children who have physical and mental disabilities.
Activities:
The object of this program is to give the children as much attention as possible. The children love to have new faces around and your time spent with them will be greatly appreciated.
Some of your responsibilities of the above mentioned program:
Playing games.
Occupying the children.
Doing creative activities so as to stimulate their individual abilities.
Possibility to work in the special education section as a class assistant.
Requirements:
Commitment to 4 hours work per day.
Willingness to learn about a different culture and respect for cultural differences.
Motivation, capability and enthusiasm to work with special needs children.
Patience, creativity, and professionalism.
Intermediate level of Spanish.
Minimum:
The minimum time requested for this volunteer program in Colombia is 4 weeks of which at least two weeks of Spanish course. The standard volunteer package consists of 2 weeks of Spanish classes followed by 2 weeks of volunteer work. You can also decide to combine your course and volunteer work and start working straight away, as classes are in the mornings, and your volunteer work will be in the afternoons.
Spanish:
An intermediate level of Spanish is required in order to participate in this project. You will first take (minimum) 2 weeks of Spanish course.