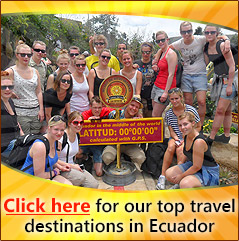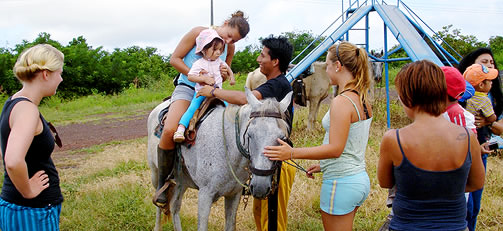 Volunteer Project in Ecuador
EG-EC19
Description:
This beautiful project at the Galapagos Islands has the main goal to improve the sustainability of the islands trough environmental, community and social initiatives. In contradiction to most volunteer programs on the Galapagos, this organization does not focus on environment only, but also on the communities living on the islands, through offering education and mentoring.

Volunteers have shown to be of great use for the project, through starting reforestations with the projectís staff. Furthermore, volunteers collaborate with educational programs to promote environmental issues among youngsters living on the islands and to motivate the plantation of local vegetation rather than introduced vegetation. Participating in this project and working with the local community could be a unique and beautiful way to explore the Galapagos and discover its wildlife.
Activities:
As a volunteer, you can be asked to perform the following activities;
Eliminate introduced or invasive plant species
Restore native species (by first growing the plants in a greenhouse)
Assisting in community projects
Mentoring children from the island in environmental tasks
Maintaining the organic garden
Requirements:
To work at this project volunteers are needed with the following requirements:
Basic level of Spanish
Love for nature
Not afraid of getting your hands dirty
Willing to perform physically heavy work
Willing to live in a deserted environment
Minimum:
The minimum time requested is 4 weeks.
Work Schedule:
Volunteers are expected to work Monday till Friday, mornings and afternoons.
Spanish:
In order to participate in this program, you should at least have a basic knowledge of the Spanish language.