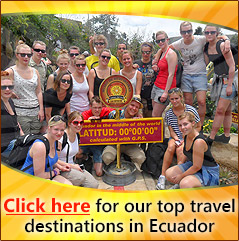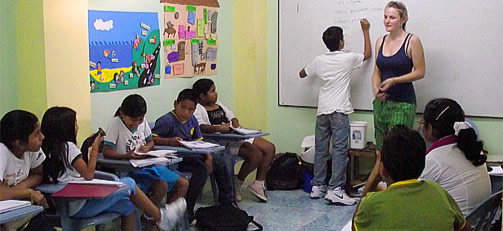 Volunteer Project in Ecuador
EG-SE23
Description:
Located on the Galapagos Islands, this volunteer project is involved in 2 primary schools (for children from 4 to 12 years old) and 2 secondary schools (for students from 13 to 18 years old.) Classes are given in the morning hours. Each class has one general teacher, and there are a few specialised teachers in English, arts and sports who rotate between the different classes. Volunteers work as classroom assistant, helping teachers to prepare the classes and helping students with their school work.
Activities:
The main activity of people assisting in this volunteer project is to teach English. You will assist the English teacher by finding new material for the classes, organizing creative activities, or planning extra-curricular activities. If you have a specific interest in sports, arts or IT, you can use your expertise and help to improve the study material and come up with suggestions for class. Creative ideas of foreign volunteers over time help the program to grow and help the students to have more fun at school. When there are several people volunteering at the same time, mini-projects can be set up to improve the school infrastructure. Construction work, r organizing events or planning an artistic project are some examples.
Requirements:
To work at this volunteer project in Ecuador you should preferably meet the following requirements:
Basic level of Spanish
Good level of English
Good communication kills
Creativity
Patience
Care and love for children
Ability to adjust to a different work environment
Minimum:
The minimum time requested is 4 weeks.
Work Schedule:
Volunteers are expected to work Monday till Friday, but working hours may depend on the age group or level you are teaching.
Spanish:
In order to participate in this program, you should at least have a basic knowledge of the Spanish language. It is advisable to start your program with a Spanish course, so that you feel more confident when speaking the language, and can communicate better with the children, their families and the local staff.