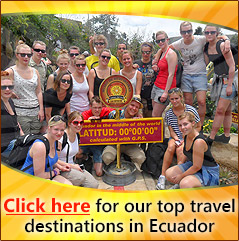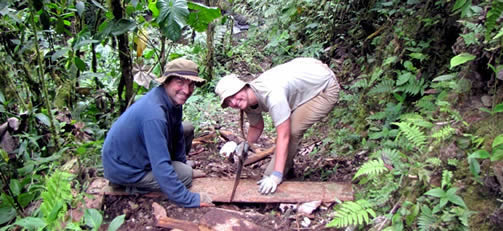 Volunteer Project in Ecuador
EM-EC12
Description:
This Ecological Reserve is dedicated to the conservation of endangered species and habitats in the Northwestern Andean Cloud Forest near the town of Mindo, around 2 hours drive from the capital Quito.

The cloud forest in this zone is recognized for its exceptionally high species diversity and high proportion of native species, making it a high priority for conservation and research.  However, as is common in less developed countries in Latin America, little has been done in the region to investigate and document these rare endangered habitats.

This reserve promotes conservation and research efforts by providing basic facilities for scientist, conservationists and students.  From the reserve they have direct access to these rare and fragile cloud forest habitats. The reserve also acts as a base for sustainable eco tourism, providing basic accommodation and guided tours for people into the forest and educating them about the value of these habitats.  They also get a lot of bird enthusiasts visiting, as this area of cloud forest is renowned as excellent for spotting all kinds of rare birds, including the famous 'Cock of the Rock'.
Activities:
Volunteers will work in a variety of tasks, including:
Improving the infrastructure of the reserve: creating and maintaining new paths through the reserve; building bridges; building and repairing steps.
Ecology: collecting seeds from the forest; creating and maintaining nurseries and gardens for the seeds to cultivate them; returning seeds to be planted in the forest.
Marketing: helping the reserve to improve their marketing and publicity, for example through a website.
Requirements:
Volunteers with some knowledge or experience of biology, ecology, natural sciences or conservation will be particular useful in this project
Basic level of Spanish required
Passionate about the organizations goals
A 'hands on' approach to work, much of which will be manual.
Minimum age of 18 years 
Minimum:
The minimum time we recommend is 4 weeks.
Spanish:
As this project focuses on conservation and manual tasks, a basic level of Spanish will be fine. However you will find it very useful to know a little Spanish, as you will be spending a lot of time with the Reserve owners, who are very lively people but do not speak much English. If you do not know any Spanish, before starting the project it is recommended you take a few weeks of Spanish classes at our school in Quito.