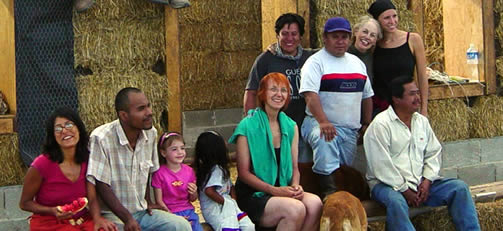 Volunteer Project in Mexico
MN-EC3
Description:
This organization which opened its doors in 1990 was started by a group of volunteers who collectively wanted to make a difference to the environment in México, with a specific focus on sustainable development. The program has two training and demonstration centers, one in the State of Mexico and one in the State of Oaxaca. Both were built with alternative technologies which makes them unique and are schools where people can easily learn how to become self sufficient in water, food, shelter and energy, how to build ecological homes, as well as technologies for economic and human development.


Activities:
The organization has set up special projects in extreme poverty communities where training in the use and construction of self made appropriate technologies as a means to satisfy basic, water, food, shelter and energy needs is also given. There are also programs for young people which objective is to have a healthy and ecological youth. Volunteers are needed in different areas:
1.-In the training and demonstration centers, help is needed in regards to:
Organic gardening
Guiding tours at the centers
Maintenance and construction
Workshops
Kitchen work
Making a project for a funding institution
Animal care
Dehydrate fruits, vegetables and herbs
Food processing
Solar cooking
Making a promotion plan for the center
Making a business plan for the centers
2.-Help is needed with sustainable development projects in rural communities living in extreme poverty. A volunteer on this project could expect to work in areas such as:
Building water harvesting cisterns
Installing bio intensive gardens
Building dry toilets
Building wood saving stoves
Reforesting
Building homes
Building chicken pens
Making composts and vermicompost
These are just a few examples of areas where help is needed though there are many more. Duties will obviously vary on a day to day basis according to the current needs of a particular ongoing program.
Requirements:
Interest in working in ecological projects
Willingness to help out in local communities, with maintenance- and construction tasks
Organizational and creative skills to help out with different activities in the training and demonstration centers
Enthusiasm and flexibility to work in different areas
Recommended areas of profession are environmental engineering, ecology, social areas, architecture and design, agriculture and biology.
An emergency contact form,  a Release of Liability and Assumption of Risks and a Medical/Accident/Health Insurance Notification, should be completed, signed and sent to us prior to your arrival.
Minimum:
The minimum time for a volunteer at this organization is one month.
Work Schedule:
All volunteers work from Monday through Friday, preferably from 9:00 to 17:00. Breakfast is served at 8:00, lunch at 14:00 and dinner at 19:00. There is always water, fruit and snacks available. During excursions to the communities lunch is prepared. On Fridays volunteers only work until 14:00 so that they can use the whole weekend for travelling or leisure time.
Spanish:
This organization is happy to accept volunteers with no prior knowledge of Spanish, however, it is to the volunteers' advantage if he/she has an understanding of the language as this leads to greater involvement and all-round satisfaction. Whilst not mandatory, for those volunteers with no prior knowledge, we highly recommend a Spanish course before you begin your program. We will be happy to arrange an appropriate course for you – please ask us for further information.