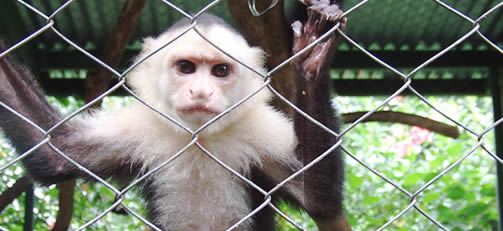 Volunteer Project in Nicaragua
NG-EC5
Description:
This wildlife rehabilitation center and zoo in Nicaragua started about 15 years ago and has since then received over 7000 animals, of which over 4000 have been liberated. Most of the animals that were received were either taken to the centre by people who had them as pets and could not take care of them anymore, or were captured by the police because they were victim of illegal trade. The center takes care of centre all types of animals such as jaguars, puma's, wildcats, crocodiles, nosebears, monkeys, parrots, tucans and hawks. Ideally, the animals return to the wild after having recuperated at the centre.
Activities:
As a volunteer at the zoo you will help with a variety of jobs, always accompanied by a staff member. Day-to-day work consists of:
Preparing the food for the animals, such as fruit, vegetables, meat and seeds
Feeding the animals
Cleaning cages and general areas
Maintenance work such as weeding the orchard, painting cages
Assisting in the butterfly garden

Sometimes, volunteers with a special interest or background in the natural environment of animals and the environment in general, can:

Help in the rehabilitation centre feeding the animals
Help setting free animals
Join a team when picking up new animals and help new arrivals to adjust to their new habitat
Help preparing special feeding materials and toys

Working hours are from 7 am through 4 pm.
Requirements:
Volunteers interested in working for this ecological project in Nicaragua should commit to a period of at least 4 weeks. Your first week will be spent taking Spanish classes in Granada. You should be a responsible person, prepared to take initiative and not afraid of getting your hands dirty. You should respect and love animals and have good communication skills.
Minimum:
The minimum time requested is 4 weeks. The standard volunteer program consists of 1 week of Spanish classes in Granada and 3 weeks of volunteer work at the wildlife center.
Spanish:
In order to participate in this volunteer program in Nicaragua, you should at least have a basic knowledge of the Spanish language. Therefore, the standard volunteer pack consists of 1 week of Spanish classes and 3 weeks of volunteer work. During your Spanish course in Granada you will have the chance to learn Spanish, enjoy cultural activities, get to know other students and volunteers and feel more at ease with your new environment.