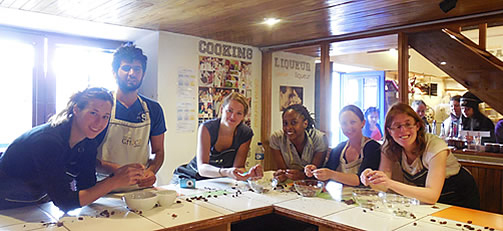 Volunteer Project in Peru
PC-CT14
Description:
This volunteer project in Peru is a small museum that works to educate people on the good uses of Coca leaves. The owners have many great ideas and good goals, including: entering into schools and giving educational presentations to kids, re-building a good reputation for the coca leaf, and selling delicious coca products. Many people have a misunderstanding of Coca because of the drug that has given it a bad name. The "Museo de Coca" aims to show the health benefits and good that comes from this plant.
Activities:
Volunteers help out with translations in the coca museum, creating attractive advertisements, preparing Coca products to be sold, along with other tasks within the museum.
Requirements:
Volunteers must have the following capabilities: Studies in international business, accounting, public relations, marketing or other business related degrees. The ability to be creative and flexible. A passion for helping restore the reputation of this important crop in Peru.
Minimum:
You should work for this volunteer project in Cusco for at least 4 weeks.
Work Schedule:
Most volunteers work Monday through Friday from 9 through 5 hours, with a break for lunch.
Spanish:
Volunteers should speak Spanish on an intermediate to advanced level.