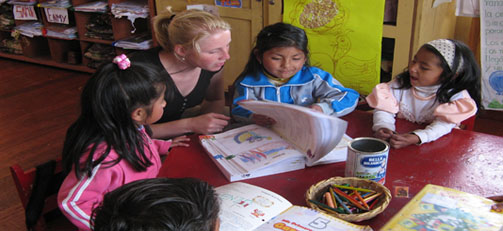 Volunteer Project in Peru
PC-SE4
Description:
Kindergarten for 4 and 5 year old children. There are two classrooms of about 35 children each. A class assistant is needed to help the teachers. There are a lot of class materials on hand and.
Activities:
Assist the children and their teachers, organize activities and teach some English.
Requirements:
You must be creative, patient and enthusiastic when working with children.
Minimum:
4 weeks.
Work Schedule:
Monday through to Friday, 8.45 am – 12:30 pm.
Spanish:
Intermediate.
Capacity:
2 volunteers at a time, 1 in each classroom.