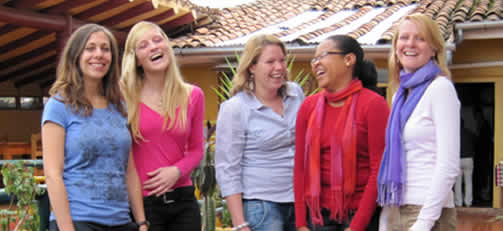 Volunteer Project in Peru
PC-IN01
Description:
Internship Programs provide the unique opportunity to live and work in Peru. Participants will experience first-hand the rich cultural diversity of Peru, while cultivating a superior level of Spanish proficiency and gain a work experience in an international environment. This Trainee Program is especially designed for students and newly graduates who are looking for a challenging working experience abroad. Working experience abroad looks great on a resume. Furthermore, most participants finish our program speaking fluently Spanish. This, added to the work accomplished in a different culture and circumstances, will be greatly appreciated by future employees.
Activities:
We have a variety of vacancies, such as working in a hospital, organizing sport competitions, teaching orphanage boys to be cooks or working in a luxurious three star hotel.
We offer traineeships in the following fields:
Tourism
Gastronomy
Medical Field
Social/Legal Work
Education
Automation
Arts & Handicrafts
Sports
Please let us know in case you have any special requests; we will be happy to tailor a traineeship to specific needs
Requirements:
The traineeship program is designed for students or recent graduates in all fields with a minimum age of 18 years old. The only formal requirement is a minimum commitment of twenty weeks. The first four weeks of the program will be spent studying Spanish; the traineeship will continue for at least sixteen more weeks. In order to work in some of the organizations, the participants might have to take more than four weeks of Spanish to reach a more advanced level of Spanish. After consulting with our academic coordinator we will determine the length of Spanish study. Furthermore you will have to meet the requirements of the placement of your choice (if any).
Minimum:
The minimum time requested is 20 weeks (including 4-week Spanish course). Exceptions are possible, depending on the kind of internship and company.
Spanish:
An intermediate level of the Spanish language is recommended for this project. Therefore, we strongly recommend you to take a Spanish course through us before starting your internship. Please ask us for further information.