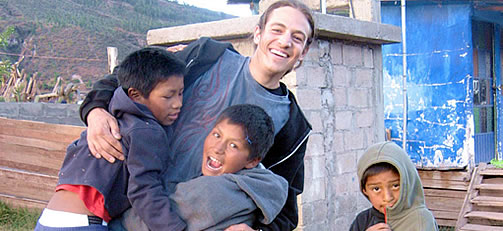 Volunteer Project in Peru
PC-SE63
Description:
This project is located about 45 minutes outside of the center of Cusco and is both a home for boys who are living on the street as well as an after school project. This is a small project with one dormitory for the boys, a room for learning and activities, a small kitchen and an outside bathroom. For this reason, volunteers are needed to help build another dormitory for the boys. This project is located in the town of Oropesa, the bread capital of Peru and is a much smaller town than Cusco. The ages of the boys range from 7-16 and there are about 10 boys there now. These boys have either been abandoned and found on the streets or come from very poor backgrounds. The main qualities this project promotes are food, health, education and home.
Activities:
This project needs volunteers both for manual labor to help continue constructing the orphanage, and to assist in activities such as teaching English, helping with homework, art activities, and organizing sport activities.
Requirements:
Motivation and enthusiasm in working with children and an ability to work independently and in a sparsely populated environment. Willing to travel about 45 minutes to the project (via bus or taxi) and/or ability to handle labored construction.
Minimum:
4 weeks
Work Schedule:
The schedule for the volunteers who are interested in manual labor as well as for the volunteers who want to assist with the children in helping teach English, assisting with home and art activities and organizing sports activities, is flexible and can be discussed with the person in charge.
Spanish:
High beginner to intermediate Spanish
Capacity:
For labored volunteer work there is not a minimum number for volunteers. For those who work directly with the children, there is a maximum of 2 volunteers.