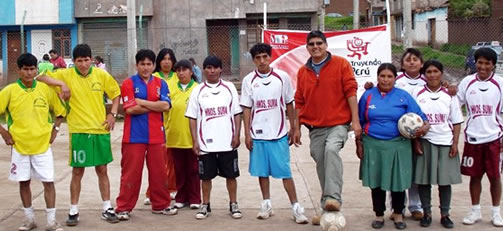 Volunteer Project in Peru
PC-SE69
Description:
This is an organization that works in developing the more urban and rural areas that have a higher percentage of poverty. The people in these areas often come from extreme poverty and are learning how to grow in self-esteem, self-identity and in creating a more hopeful future for themselves. This project deals mostly with adults who are working towards their future through manual labor (constructing highways and gardens), and classes dealing with education in specific areas, such as creativity, sciences and psychology.
Activities:
Volunteers can help with construction or work in creating a special class or workshop for the people. These classes should deal namely with developing further self-esteem or education in a specific area dealing with creativity, work, health, etc. Volunteers also take care of the kids whose mothers are helping with the construction and with the organization of sports tournaments for the people.
Requirements:
Able to work independently along with enthusiasm for creating workshops dealing with particular themes that aid in self-development. Volunteers with experience in social sciences, anthropology and psychology are very useful.
Minimum:
4 weeks
Work Schedule:
Monday through to Friday from 8:30am till 12:30am or 4.30pm till 8pm
Spanish:
Intermediate
Capacity:
No minimum number of volunteers