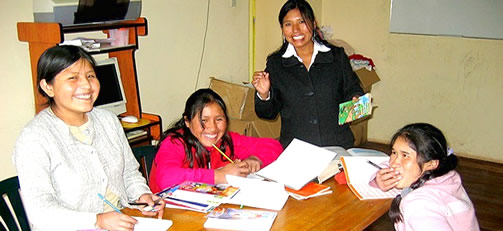 Volunteer Project in Peru
PC-SE96
Description:
This volunteer project in Cusco is a home for adolescent mothers and their children. In the house there is a nursery, day- care for the older kids, kitchen, dining room, office, library, counseling room, and bedrooms. The majority of the girls who come to this home have never had a bed. In order to make a living, they share the housework amongst each other and create artisanal crafts to sell in stores. Right now they have plenty of helpers with the kids and mothers, but they lack help in the administrative area.
Activities:
Volunteers help out with the administrative tasks: manage paper work and the accounting area of the stores and home.
Requirements:
Volunteers must have a background in accounting, business, marketing, or other similar degrees.
Minimum:
When working for this volunteer project in Peru you should commit to a period of 1 month minimum.
Work Schedule:
Most volunteers work Monday through Friday at flexible working hours.
Spanish:
Volunteers should speak Spanish on an intermediate/high level, in order to communicate efficiently with the mothers and children. Ask us for possibilities to take a Spanish course in Cusco before starting your volunteer work.