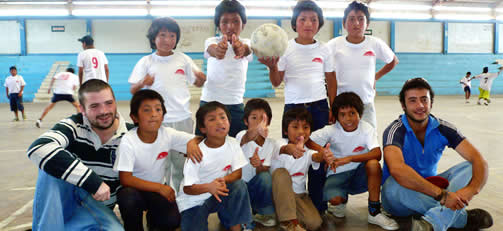 Volunteer Project in Peru
PCA-SE01
Description:
This project provides nutritional and educational support to 40 children from extremely poor backgrounds, who attend the centre in Cajamarca on a daily basis. The children come in to do their homework, receive educational reinforcement and carry out educational and recreational activities, as well as for a warm meal, medical attention and counselling.


Activities:
Volunteers are expected to work from 9 am to 4 pm in the project centre, assisting the children in their daily routine (homework, educational reinforcement, activities) and supervising them during mealtimes and playtime. Volunteers will take turns doing the breakfast shift (preparing breakfast with the cook) as of 8 am.

Occasional weekend outings may be organized for the children. Volunteers are required to participate in these events, and are warmly invited to take part in their organization too.

Volunteers who are interested may collaborate with the local staff in further activities or mini-projects (fundraising, local awareness raising events, workshops for the families, communication, workshops for the children, etc.), though this in not a requirement.
Requirements:
Low-intermediate level of Spanish
A passion for working with children
Backgrounds in social work, teaching, development or medicine and nursing are very appreciated though not required.
Good attitude and coordination with the organization
High sense of commitment, responsibility, solidarity, patience and motivation
An interest in learning about a new culture
Skills / former experience in working with children is encouraged, though not required
Minimum:
It is preferred that volunteers commit to at least 2 months; however, volunteers who are interested in coming for one month are also.
Work Schedule:
You will work daily from 9 am to 4 pm in the project centre. Volunteers also take part in the organization and participation of occasional weekend events.
Spanish:
In order to participate in these programs. It is highly encouraged that you have at least a good basic / low intermediate level of the Spanish language.